By Adam K. Raymond Kentucky
PUBLISHED 3:48 PM ET Sep. 30, 2021
LOUISVILLE, Ky. — Aaron McGahee tells his students there is only one place to store a firearm in their vehicle.
"I teach them to keep their gun on their person," said McGahee, owner and chief instructor at Rhinox Research Group, which offers gun safety courses in Louisville. Not only does that allow them easier access to the firearm in case they need it, McGahee said, it prevents the weapon from falling into the wrong hands.
---
What You Need To Know
Nearly 500 guns have been stolen from Louisville vehicles since the start of 2020
LMPD Chief Erika Shields has called on gun owners to secure their weapons in their cars
Firearms safety instructor Aaron McGahee said people should always keep their gun on their person
Louisville cannot regulate guns because of state law preventing it
---
"A lot of this stuff is just negligence on behalf of gun owners — when kids get a hold of guns, when criminals get a hold of people's guns," he said. "Storage is a part of being a gun owner."
That's a message Louisville Metro Police Department (LMPD) Chief Erika Shields has been emphasizing in recent weeks as the number of firearms stolen from Louisville vehicles in 2021 nears 200.
"The two things that would help me the most are if people would secure their weapons, didn't just leave them in their car, and if the judges held individuals who possessed guns illegally accountable," Shields said on Sept. 22, just hours after three high school students were shot at their bus stop in Russell.
Earlier in the month, Shields spoke more about the issue on LMPD's podcast. "I cannot emphasize enough — please, please, please, if you are a gun owner, make a commitment to be a responsible gun owner and secure your gun in a lock box if you leave it in your vehicle," she said.
LMPD data shows that 193 guns were stolen out of vehicles in the first eight months of 2021. Last year, 300 guns were taken from vehicles.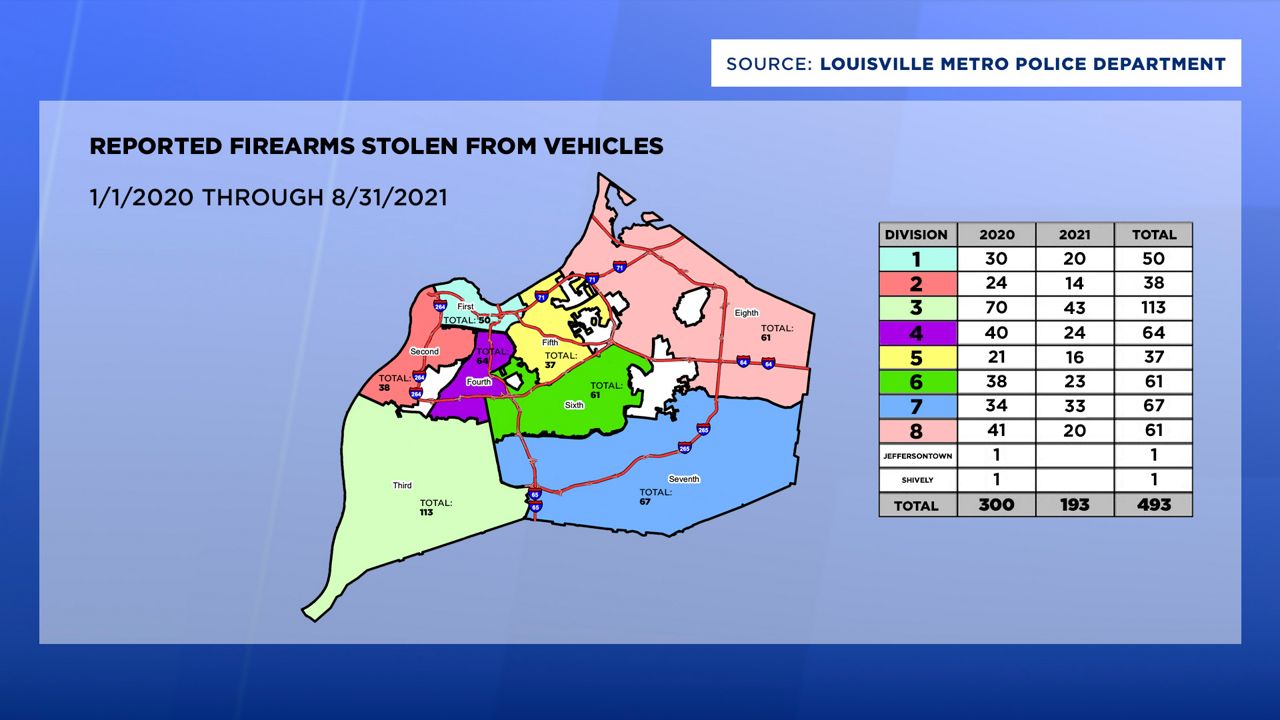 Many of these weapons are later used in the commission of a crime. "If someone would be in possession of an illegal gun, their intentions would not be honorable," Shields said in the podcast.
This problem is not new nor is it isolated to Louisville. In Sept., Nashville reported that 756 guns have already been stolen in 2021. More than 60% of those were taken from vehicles. A 2017 analysis from the nonprofit news organization The Trace found that police recovered more than 23,000 lost or stolen guns between 2010 and 2016. Most of them were connected to crimes.
There may, however, be reason to believe the problem is getting worse. In 2020, gun sales surged in the U.S., resulting in more legal guns that could eventually become illegal stolen guns.
Gun owners may be contributing to the problem, too. McGahee pointed to the 2019 law that made Kentucky a permitless carry state, meaning no license, or training is needed in order to possess a gun in the state. He said when people miss out on training they're also missing out on valuable lessons about gun storage.
"People don't have to go to a course if they want to concealed carry anymore," McGahee said. "They're very focused on the piece of paper, or the permit itself, but nobody is looking at the value of the training."
While McGahee and Shields emphasized the need for responsible gun ownership, some cities and states have tried to address the problem by changing the law.
"California law requires all individuals, including law enforcement officers and people with concealed carry permits, to safely store handguns when leaving them in unintended motor vehicles," said Allison Anderman, senior counsel with the Giffords Law Center.
The rules in Oakland, California are even more stringent, requiring guns to be stored in a lock box that is either out of sight, or is "placed in a container that is permanently attached to the inside of the vehicle."
Louisville could not adopt such a law even if leaders wanted to. Kentucky is one of dozens of states that bars cities from regulating guns with what is commonly referred to as a "preemption law."
"Local communities know best what their problems are with gun violence, and are often in the best position to legislate to address those problems," Anderman said. Preemption laws, which has been promoted by gun lobbying groups, remove this power.
In the aftermath of the school bus stop shooting, which killed 16-year-old Tyree Smith, Louisville Mayor Greg Fischer criticized the "limitations placed on us by state laws that ban common-sense gun measures." With the Republican supermajority in Frankfort though, there's little chance of that changing.
That leaves gun owners as the people best suited to stop gun thefts. "This is stuff we can prevent," MaGahee said. "I know there's a lot of stuff that we can't prevent, but we can prevent people from getting a hold of our guns."